Enjoy better golf with our professional golf coaching
---
Golf coaching is all about you and what you want to get out of your game. We pride ourselves on being good listeners and aim to provide the best possible professional advice, whilst ensuring each lesson is tailored and enjoyable for the golfer.
Why Coaching?
Our number one mission is to provide a pathway to help you play better golf. Every golfer enjoys the game more when they're hitting good shots and playing well. This is our mission for you. Think back to your last few rounds and try to pinpoint an area that cost you shots…
Maybe, you had too many three-putts as a result of poor distance control? Or did you miss too many fairways to the right meaning you had to chip out sideways? It could be that you play well in practice rounds with your friends but struggle to replicate that in competitions?
Through our experiences in the game and our PGA education, we appreciate that every golfer is different. That's why we offer a range of lessons and packages to suit everyone.
Lessons will cover:
Golf Fundamentals
Swing Basics
Short Game
Long Game
Course Management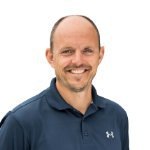 Warren Wood - Head PGA Professional
Golf is quite simply Warren's life! It's both a job & a hobby. Having spent over three decades involved in this great game, Warren has been a player, a caddy, a retailer and a coach. He has played on the European Challenge Tour and caddied on both the men's and ladies' European tours. Warren has taught players who played in the Walker Cup and PGA Cup teams. Along with the winner of the Lytham Trophy, the European Amateur Championship and the Open Championship Silver Medal. As a PGA Professional, you wear many hats, but his favourite has to be coaching. Being a golf coach is exciting, with every golfer bringing a new challenge regardless of ability. His coaching style/ method is to build a golf game through good structure and sound fundamentals which in turn creates a repeatable motion. With the use of video analysis, he is able to offer a golfer their very own swing catalogue which helps make future practice sessions more effective and efficient. To enhance a player's understanding during a session Warren used launch monitor data and the latest training aids, providing the necessary feedback to facilitate rapid change.
---
Sian Evans - PGA Professional
Sian took up the game of golf aged 7 and has never looked back. She is an incredibly talented player whose successful amateur career peaked when she accepted a full scholarship to play collegiate golf at East Tennessee State University. She turned professional in 2014 after graduating with an honours degree in Sport and Exercise Science. In 2016, during her PGA training, Sian won the prestigious PGA South Region Assistant Professional of the year. Sian joined the team at Rochester & Cobham Park Golf Club in September 2020, while still competing in numerous world class events on the Ladies European Tour. Although she no longer plays full time, Sian still enjoys competing in PGA and WPGA events across the country, as well as the Rose Ladies Series. Her passion now really is in the coaching side of the game. Sian teaches all types of golfers from beginners, club golfers, women & juniors. She has run numerous successful ladies/girls only coaching groups and a highly successful junior academy. Her motto for coaching is to work with the player and develop all areas of their game.
---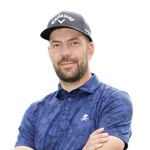 Jordan Godwin - PGA Professional
Jordan is a AA qualified PGA Professional and is highly accomplished as both a coach and player with over 30 professional wins. He has competed across a number of Tours worldwide, including Challenge Tour, Alps Tour & National PGA events. In 2019 Jordan qualified as one of only ten players to represent GB & I against the USA in the prestigious PGA Cup. Through his experience of playing at an elite level and working with some of the most recognised coaches on his own game, Jordan has built up a great bank of knowledge and is extremely passionate about creating a pathway to help improve golfers of all abilities. He currently works with playing professionals and elite amateur players all the way through to complete beginners. Jordan's philosophy on coaching is very much 'not one swing fits all' with a real passion for maximising scoring & performance on course. With the superb facilities available at RCPGC Jordan is able to provide quality coaching on every aspect of the game. With GC Quad launch monitor technology, grass practice range, short game areas, USGA spec putting green & championship golf course all available for tuition.
---
Miles Richardson - PGA Assistant
Rochester and Cobham's very own club junky. If you want a conversation about clubs, repairs or fittings then Miles is your man. Miles has had somewhat of a change of career, previously having a background in professional cricket and cricket coaching. He has a great understanding of both how to structure a lesson and get points across in a simple way. Custom fitting and repairs is really where Miles comes into his own. With a great passion for clubs and wanting to ensure every club in a player's bag is doing its job in the very best way that it can. In 2022 Miles began his PGA foundation degree and has recently passed & completed year one of the three year programme. Miles continues to develop and expand on his coaching knowledge via his PGA degree course and learning from his colleagues.
---